July 17 2023, Shanghai, China — Alebund Pharmaceuticals ("Alebund" or the "Company"), a biopharmaceutical company dedicated to developing innovative therapies for the treatment of renal diseases and related chronic conditions, announced that the first patient was enrolled and dosed on June 30 in its phase 3 trial "a randomized, open-label, multicenter phase 3 study to evaluate the efficacy and safety of AP301 on serum phosphorus control in dialysis patients with hyperphosphatemia "(AP301-HP-02 Phase 3 Clinical Trial). Clinical trial information is available at www.chinadrugtrials.org.cn with identifier CTR20231624. Professor Li ZUO, Director of Department of Nephrology at Peking University People's Hospital, acts as the leading investigator of the AP301 pivotal phase 3 clinical trial. The trial will be conducted in 50 sites and plan to enroll 472 hyperphosphatemia patients, among which 90% on hemodialysis and 10% on peritoneal dialysis.

The investigator meeting for the AP301 phase 3 clinical trial was successfully held in China World Hotel, Beijing on July 15. Professor Li ZUO stated, "AP301, a new-generation iron-based phosphorus binder, is the first phosphate binder developed by a Chinese company with its pivotal phase 3 clinical trial first conducted in China. I am very glad to continue to act as the leading investigator of AP301 clinical study. We will advance the study swiftly and smoothly with high quality, and look forward to bringing a new treatment option to dialysis patients with hyperphosphatemia in China, meeting the pressing need."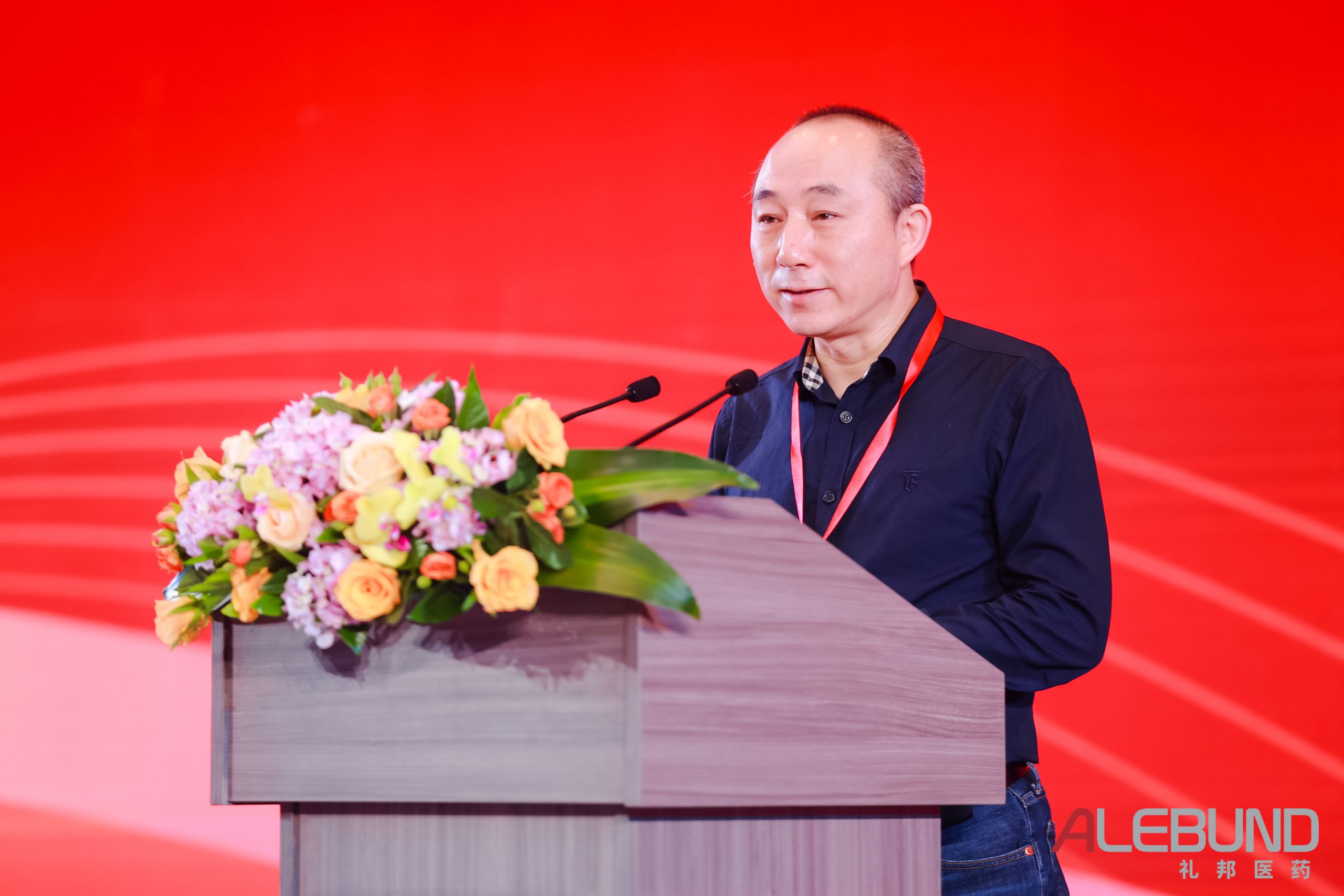 Dr. Jin Tian, Co-founder and CMO of Alebund commented, "Based on the real-world phosphate binder use among dialysis patients published by Nephron in March this year, the proportion of patients adherence to iron-based phosphate binders was similar to sevelamer, but the positive net switching rate was observed for iron-based phosphate binders and negative for sevelamer. In the completed phase 2 study, AP301, a novel fiber-iron based insoluble phosphate binder, is safe, well tolerated and can effectively lower serum phosphorus in a dose-dependent manner. We look forward to further demonstrating the clinical significance of AP301 in the phase 3 study, providing advanced therapies for millions of patients with hyperphosphatemia, further increasing their compliance and better control rate of serum phosphorus. "
Dr. Gavin Xia, Co-founder, Chairman and CEO of Alebund commented, "Alebund is dedicated and very committed to developing improved treatment options for patients with hyperphosphatemia. We hope Alebund's new generation iron-based phosphorus binder AP301, and AP306, an oral serum phosphorus lowering product with an innovative mechanism, can provide much more effective and safe therapies for hyperphosphatemia patients."
About Hyperphosphatemia
Hyperphosphatemia is one of the most common complications in CKD patients. The long-term elevated serum phosphorus level could cause multiple complications such as secondary hyperparathyroidism, renal osteodystrophy and vascular calcification. It is an independent risk factor of cardiovascular events and all-cause mortalities. A good control of serum phosphorus level could effectively improve the patients' outcome. For CKD patients undergoing dialysis treatment, the regular dialysis is not sufficient to remove the overload of serum phosphate in the body. Considering the limitations of low-phosphate diet which might cause dystrophia, oral use of phosphate binders is the prevailing treatment for hyperphosphatemia. However, there is low compliance for patients (less than 50% reaching a good phosphate control) to use PBs due to gastrointestinal side effects, high pill burden etc.
According to Global and Chinese Hyperphosphatemia Drug Industry Blue Book by China Insights Consultancy in 2023, the out of target rate of serum phosphorus level in dialysis patients in Chinese mainland was significantly higher than other countries and regions. There is still room for improvement in terms of the proportion and duration of phosphorus binders usage. The market size of serum phosphorus lowering products in China is expected to reach 10 billion RMB by 2035.
About AP301
AP301 is a new generation of oral iron-based phosphate binder, which has high phosphate binding capacity, water insolubility, minimal systemic absorption, small volume expansion in gastric juice and no need for chewing before swallow. AP301 has the ideal characteristics required for phosphate binders, reducing the absorption of phosphorus in the gastrointestinal tract to maintain stable serum phosphorus level, effectively treating hyperphosphatemia in dialysis patients.
About Alebund Pharmaceuticals
Alebund is a startup jointly incubated by a group of industry leaders in the field of nephrology in Shanghai in 2018. As a clinical-stage biopharmaceutical company, Alebund focuses on the discovery and development of novel therapies primarily for kidney diseases and their complications, as well as other chronic conditions. Alebund has built a diversified and balanced pipeline of drug candidates targeting a range of renal diseases, including chronic kidney disease (CKD)/dialysis complications, IgA nephropathy, diabetic kidney disease, and autosomal dominant polycystic kidney disease (ADPKD). Alehund's pipeline comprises both small-molecule and biological assets, in which the most advanced in-house product AP301 is undergoing pivotal phase 3 study.
---
礼邦医药 AP301 关键性 Ⅲ 期完成首例患者入组并成功召开研究者会议
2023 年 7 月 17 日,中国上海——礼邦医药(Alebund Pharmaceuticals),一家致力于开发治疗肾脏疾病和相关慢性病创新疗法的生物制药公司,宣布其申办的 "一项在慢性肾脏病接受维持性透析的高磷血症患者中评价 AP301 控制血清磷的有效性和安全性的随机、开放、多中心 Ⅲ 期研究" (AP301-HP-02 Ⅲ 期临床试验)已于 6 月 30 日完成首例患者入组用药。试验信息在国家药品监督管理局药物临床试验登记与信息公示平台(chinadrugtrials.org.cn)公示,登记号为 CTR20231624。AP301 的关键性 Ⅲ 期试验由北京大学人民医院肾内科主任、博士生导师左力教授担任主要研究者,计划在 50 家中心开展,招募约 472 名高磷血症受试者,包括约 90% 血液透析和约 10% 腹膜透析受试者。
AP301 Ⅲ 期临床试验全体研究者会议于 7 月 15 日在北京中国大饭店成功召开。左教授在致辞中表示: "AP301 是新型的含铁磷结合剂,是在降磷药物领域首个由中国公司自主研发,且其关键性 Ⅲ 期试验率先在中国开展的项目。我很高兴继续担任 AP301 临床研究的牵头研究者,期待本研究能够高质量、快速和顺利推进,为中国的高磷血症透析患者提供新的治疗手段,早日造福患者。"
礼邦医药联合创始人、首席医学官田劲医生表示:"基于 Nephron 杂志今年 3 月发表的针对透析患者高磷血症使用磷结合剂治疗的真实世界数据,虽然患者使用含铁磷结合剂的依从性与司维拉姆相似,但观察到换用含铁磷结合剂的患者增加而用司维拉姆的患者减少。AP301 作为新一代含铁的磷结合剂,在 Ⅱ 期研究中已展示出良好的耐受和安全性,并以剂量依赖的方式有效快速降低血清磷。我们期待在 Ⅲ 期研究中进一步论证 AP301 的临床意义,为数以百万计的高磷血症患者提供先进疗法,进一步增加患者的依从性,更好的控制血磷。"
礼邦医药首席执行官夏国尧博士补充表示:"礼邦医药致力于为透析高磷血症患者提供更优的血磷控制方案。期待我们的新型含铁磷结合剂 AP301 及拥有全新机制的口服小分子降血磷药物 AP306 可以早日上市,为全球高磷血症患者群体提供更有效、安全的临床解决方案。"
关于高磷血症
高磷血症是慢性肾脏病患者的重要并发症之一。血磷水平长期过高可导致甲状旁腺功能亢进、肾性骨病、血管钙化等多种并发症,是增加患者心血管事件和全因死亡的独立危险因素。控制血磷水平达标可有效改善慢性肾脏病患者的预后。对于慢性肾脏病接受透析治疗的高磷血症患者,即使规律透析也无法清除每日摄入磷酸盐在体内的蓄积量。由于饮食限磷的作用有限、且会影响患者的营养状况,口服磷结合剂是目前治疗高磷血症的主要方法, 但超过一半的患者血磷控制不佳,其中一个主要原因是现有磷结合剂的胃肠道副作用明显且服用药片数量过多,导致患者治疗依从性差。
根据灼识咨询 2023 年《全球及中国高磷血症药物行业蓝皮书》,中国在透患者血磷水平不达标率显著高于其他国家及地区,磷结合剂使用比例以及磷结合剂使用患者的用药时长方面均仍有较高提升空间。随着新一代降磷产品的上市,预计 2035 年中国降磷药物市场规模将达到百亿元人民币规模。
关于 AP301
AP301 是新型的含铁口服磷结合剂,具有磷结合力高、不溶于水、无系统性吸收、胃液中膨胀体积小和吞咽前不用咀嚼等特点。AP301 具有理想的磷结合剂所需特性,减少胃肠道中磷的吸收以维持血磷水平稳定,有效治疗透析患者的高磷血症。
关于礼邦医药
2018 年初,礼邦医药由最顶尖的肾脏病领域行业领导者孵化于中国上海,目前是一家处于临床阶段的生物制药公司,主要致力于肾脏病以及其他相关慢性疾病的创新药物发现和开发,为慢性肾脏病及相关疾病患者提供更佳临床治疗方案。礼邦医药已经建立起了丰富且均衡的肾脏病新药产品管线,包括针对慢性肾病(CKD)/透析并发症、IgA 肾病、糖尿病肾病 (DKD)、常染色体显性多囊肾病(ADPKD)等产品。公司在研产品包括小分子药物和生物制剂,自研产品 AP301 正在进行关键性 Ⅲ 期研究。